MetaTrader 5 EA Connection Wizard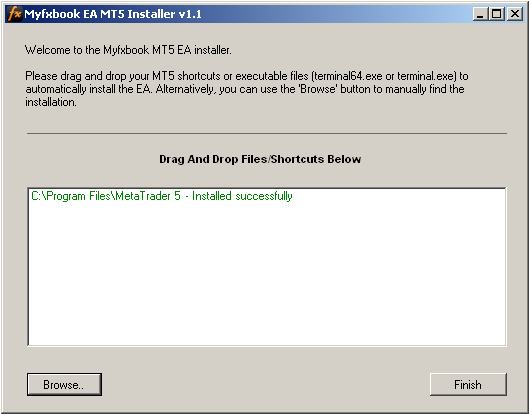 Windows 7 users – please run the file in administrator mode (Right click>Run as administrator).
2. Restart MetaTrader 5 and go to Tools>Options>Expert Advisors. Set the following settings and click ok: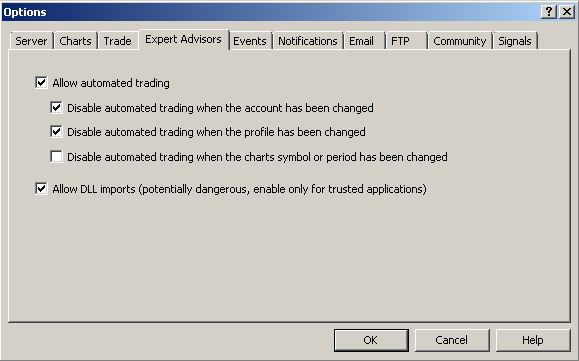 3. Open the navigator (View>Navigator) and find the Myfxbook EA in the 'Experts Advisors' tab: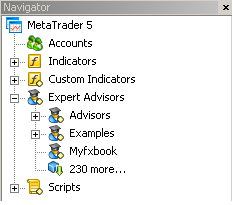 4. Double click on the Myfxbook EA or drag it on any chart to activate it (Keep in mind MetaTrader 5 allows only 1 EA per chart and only one Myfxbook EA is required to publish data)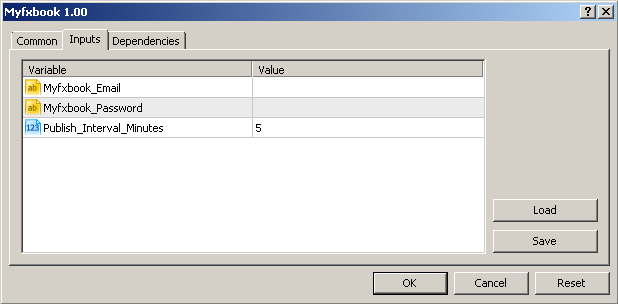 Enter your settings:
| Field | Value |
| --- | --- |
| Myfxbook_Email | Your Myfxbook login email. |
| Myfxbook_Password | Your Myfxbook password. |
| Publish_Interval_Minutes | Publish your account every X minutes. *Account will not update more than once every 5 minutes. |
5. After saving the settings, you should see the following icon at the top right corner of the chart you've attached the EA to: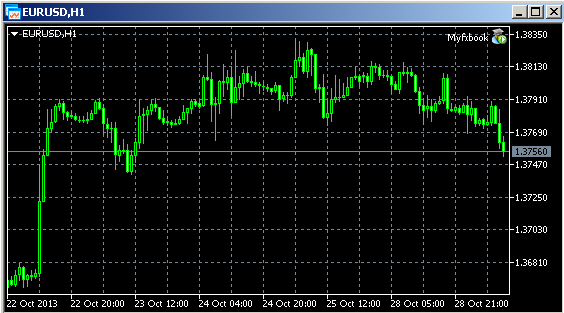 And in the 'Experts' tab:

You're done!
Your account will be processed and added to your Myfxbook portfolio within 60 seconds!
If the markets are closed (weekends), please wait until they are opened as the EA will not work until then.
Your account will be updated every 5 minutes whenever your trading platform is open and the markets are open.
Manual Installation
1. Place the Myfxbook.dll file in MQL5/libraries folder of your MT5 installation.
2. Place the Myfxbook.ex5 file in the MQL5/experts folder of your MT5 installation.
3. Restart MT5.